Is It the Law of States or the Law Of Men? Feminist Criticism of the Establishment, Functioning and Practice of International Law

Abstract views: 169 /

PDF downloads: 185
Keywords:
International Law , Feminism, International Relations International Community , Decision-Making Processes
Abstract
Feminism, as a collective women's movement, it has been visible since 18th century. Laws and practices have also become an area of criticism for this movement, which has brought a critical approach to the position of women in society within the framework of generations. The Feminist movement, which brings criticisms about the formation, functioning and consequences of the rules of law, brings similar criticisms about international law. One of the main criticisms of the Feminist approach is that the processes of formation of international legal rules, decision-making mechanisms and structures of international organizations are the source and result of an unequal order. The aim of the study is to present a critique of the unequal position of women as a secondary actor in domestic legal rules and to show that there is a general acceptance of patriarchy in the discipline of international law through bilateral or multilateral treaties, institutions and practices that represent international law, and that there is no need and effort to change this unequal functioning. In this study, the discipline of international law is tried to be discussed from the perspective of feminist theory that tries to achieve gender equality. In this context, firstly, feminist theory is defined and information about the framework of the feminist approach is given by referring to its discourses on the discipline of international relations. While the discipline of international law is discussed in the context of feminist theory, first it is tried to determine its place in the discipline of law and then the patriarchal structure of international law is tried to be questioned by analyzing the main criticisms of the approach to international law.
References
Altınsoy, Z. D.(2022). Bir savaş stratejisi olarak cinsel şiddetin Feminist teori ve Uluslararası Hukuk açısından değerlendirilmesi. Uluslararası Suçlar ve Tarih, 23, 117-140.
Atmaca, A. ve Ercan, P.(2018). Uluslararası güvenliği yeniden düşünmek: Uluslararası İlişkiler disiplininde feminist eleştiriler. Uluslararası İlişkiler Dergisi, (13).
Arat, N.(2006). Feminist Hukuk. İUKAD, (9).
Baer, J. A.(2015). Feminist theory and the law. The Oxford handbook of political science. (Ed. R.E. Goodin). Oxford University Press.
Beauvoir, S.D.(1953). The second sex. (ed. H.M. Parsley), Lowe and Brydone.
Berktay, F.(2011). Feminist teoride açılımlar. Toplumsal cinsiyet çalışmaları. Anadolu Üniversitesi Yayını, No:2312.
Beşir, F.(2018). Kadın kurtuluş hareketi'nin 68'i. Toplumsal Tarih, (293), 34-39.
Birdişli, F.(2017). Güvenlik sorunlarına konstrüktivist bir yaklaşım: yapısal şiddet teorisi. (Ed. O. Ağır), Türkiye'de siyaset ve uluslararası ilişkiler alanında güncel tartışmalar, Seçkin Yayıncılık.
Blanchard, E. M.(2003). Gender, international relations, and the development of Feminist security theory. Signs: Journal Of Women Culture and Society, 28(4), 1289-1312.
Brooks, R. E.(2002), Feminism and international law: an opportunity for transformation. Yale Journal of Law & Feminism, (14), 345-361.
Brown, S.(1998). Feminism, ınternational theory, and international relations of gender inequality. Millennium: Journal of International Studies, 17(3).
Butler, J.(2009). Toplumsal cinsiyet düzenlemeleri. (Çev. Begüm Kovulmaz), Cogito, (58).
Cain, P. A.(2013). Feminist jurisprudence: grounding the theories. Berkeley Women's Law Journal, 4(2), 191-214.
Charlesworth, H.(1993), Alienating Oscar? Feminist analysis of international law. Studies in Transnational Legal Policy, (25), 1-18.
Charlesworth, H. and Chinkin, C.(1993), The Gender of Jus cogens. Human Rights Quarterly, 15(1), 63-76.
Çakır, S.(2008). Kapitalizm ve patriyarkaya karşı: sosyalist feminizm. Toplum ve Demokrasi, 2 (4), Eylül-Aralık, 185-196.
Dahl, T.S.(1987). Women's law, an ıntroductıon to feminist jurispuridence. (Translate Ronald L. Craig), Norwegian University Press.
Demir, N. H.(2016). Feminist perspektiften düşünce tarihinin köşe taşları ve ideal bir hukuk anlayışı, (Yayımlanmamış Doktora Tezi), İstanbul Kültür Üniversitesi.
Donovan, J.(2005) Feminist teoriler.(Çev. Aksu Bora-Meltem Ağduk Gevrek- Fevziye Sayılan). İletişim Yayınları, İstanbul.
Ecevit, Y. ve Karkıner, N.(2011). Toplumsal cinsiyet sosyolojisi. Eskişehir Anadolu Üniversitesi Yayınları.
Emerson, T. et al(1971). The equal rights amendment: a constitutional basis for equal rights for women. Yale Law Journal, (80), 871-985.
Emir, B. (2016). Svetlana Aleksiyeviç'in kaleminden savaşan kadın anıları: Savaşın kadınsı bir yüzü yoktur. (Ed. O. Yamaner). 20. yüzyılda savaş ve kadın, (146-159). Bilgi Kültür Sanat Yayıncılık .
Eisenstein, Z.(1979). Capitalist patriarchy and the case for socialist feminism, Montly Review Press, London.
Firestone, S.(2013). Cinselliğin diyalektiği. (Çev. Yurdanur Salman). Payel Yayınevi.
Fineman, M.A.(1992), Feminist theory in law: the different it makes(1992). (Ed K.J. Maschke). Gender and American law. Newyork&London, Garland Publishing.
Finley, L.(1998), The nature of domination and the nature of women: reflections on feminism unmodified. Northwestern University Law Review, 82.
Frug, M. J.(1992), Postmodern legal feminism. Routledge.
Gloria, W.(2000). Feminizm herkes içindir. Çitlembik Yayınları, İstanbul.
Güneş, F.(2017). Feminist kuramda ataerki tartışmaları üzerine eleştirel bir inceleme. Fırat Üniversitesi Sosyal Bilimler Dergisi, 27 (2), 245-256.
İnce, F.(2018). 68 kuşağı, ikinci dalga feminizm ve cinsel devrim üzerine mukayeseli bir değerlendirme. 20 Şubat 2023 tarihinde https://www.tesadernegi.org/68-kusagi-ikinci-dalga-feminizm-ve-cinsel-devrim-uzerine-mukayeseli-bir-degerlendirme.html adresinde erişilmiştir.
Janus, K. K.(2013). Finding common ground: the role of the next generation in shaping feminist legal theory. Duke Journal of Gender Law and Policy, 20(255).
Kolay, H.(2015). Kadın hareketinin süreçleri, talepleri ve kazanımları. EMO Kadın Bülteni, (3). 5-11.
Kutlu, A.G.(2014). Armed conflicts and sexual violence against women: an inevitable accompaniment?. KOSBED, (28), 1–20.
Leslie, H. and Drake, J.(1997). Third wave agenda: being feminist, doing feminism. University of Minnesota Press.
Mackinnon, C.A.(1997). Diference and dominance: on sex discrimination(1984), (Ed. K.J. Maschke), Gender and American Law. Newyork&London, Garland Publishing.
MacKinnon, C.A.(2015). Feminist bir devlet kuramına doğru. (Çev. T. Yöney ve S. Yücesoy). Metis Yayınları.
Mcnamara, K.R.(1993). Whose security? feminism and international relations. Journal of International Affairs, 46(2). 547-553.
Özdemir, Ö.(2015). Savaş ve çatışmalarda şiddetin kurbanları kadınlar. Uluslararası Sosyal Araştırmalar Dergisi. 8 (39), 310-318.
Özkazanç, A.(2015), Feminizm ve hukuk üzerine eleştirel düşünceler. Ankara Barosu Dergisi. 2015(4), 205-210.
Özlük, E.(2017). Feminist yaklaşım, (Ed. Ali Balcı ve Şaban Kardaş). Uluslararası ilişkilere giriş kavram ve teoriler. Küre Yayınları.
Rowbotham, L. S. ve Wainwright, H.(1984). Feminizm Sosyalizm ve eylemde birlik. İletişim Yayınları.
Savran, G.A.(2013). Kadınlar neden savaşa karşı?. Kanat Kitap.
Sever, D.Ç.(2016). Hukuk eğitimine feminist bir bakış ve yöntem arayışları. Hukuk Kuramı, 3(3), 16-43.
Smart, C.(1995). Law, crime and sexuality, essays in feminism. SAGE, London.
Sheehan, M.(2005). International security: an analytical survey, Boulder, Lynne Riener.
Yüksel, M.(2003). Feminist hukuk kuramı ve feminist düşünce teorileri. Beta Yayınevi.
Saigol, R.(2016). Militarizasyon, ulus ve toplumsal cinsiyet şiddetli çatışma alanları olarak kadın bedenleri. İletişim Yayınları.
Sylvester, C.(1994). Feminist theory and international relations in a postmodern era, Cambridge University Press.
Taş, G.(2016). Feminizm üzerine genel bir değerlendirme: kavramsal analizi, tarihsel süreçleri ve dönüşümleri. Akademik Hassasiyetler, 3(5), 163-175.
Terriff, T. et. al.(1999). Security studies today. Polity Press.
Tesón, F. R.(1993). Feminism and international law: a reply. Va. J. Int'l Law, (33), 647-684.
Thornburn, D.(2000). Feminism meets ınternational relations. SAIS Review, 20(2), 1-10.
Tickner, J.A. and Sjoberg, L.(2007). Feminism. (ed. Tim Dunne, Milja Kurki, Steve Smith), International relations theories: discipline and diversity, Oxford University Press.
Tickner, J. A.(1994). Feminist perspectives on peace and world security in the post-cold war era. (Ed. M.T. Klare). Peace & world security studies: a curriculum guide. Boulder&London: Lynne Rienner Publishers.
Tickner, J.A.(2002). Why women can't run the world: ınternational politics according to Francis Fukuyama. International Studies, 1(3), 3-11.
Tickner, J. A.(2005). Gendering a discipline: some feminist methodological contributions to international relations. Signs: Journal of Women in Culture and Society, 30(4), 2173-2188.
Tür, Ö. ve Koyuncu, Ç.(2010). Feminist uluslararası ilişkiler yaklaşımı: temelleri, gelişimi, katkı ve sorunları. Uluslararası İlişkiler Dergisi, 7 (26), 3-24.
United Nations Security Council, Resolution (S/RES/1325.
Ünlü, A.D.(2020). Uluslararası ilişkilerde kadınların barış hareketi: Barış ve Özgürlük için Uluslararası Kadın Birliği. İstanbul Üniversitesi Kadın Araştırmaları Dergisi, 20, 107–128.
Vural, E. ve Kantar, G.(2022). Feminist ideoloji ve söylem karşısında hukuk. Namık Kemal Üniversitesi Sosyal Bilimler Meslek Yüksek Okulu Dergisi, 4(2), 34-43.
Waever, O.(1995). Securitization and desecuritization. (ed. R.D. Lipchutz). On Security, New York: Columbia University Press.
Yükselbaba, Ü.(2016). Feminist perspektiften hukuk. İstanbul Üniversitesi Hukuk Fakültesi Mecmuası, (74), 123-138.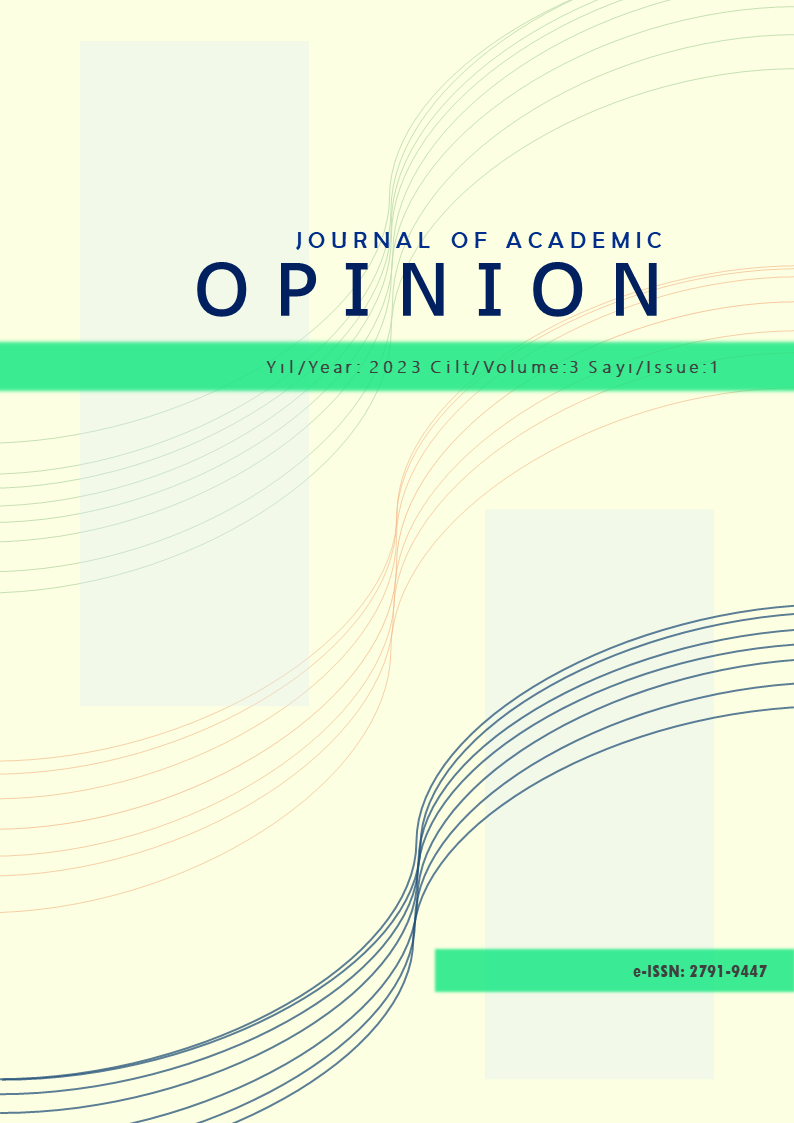 Downloads
How to Cite
Kıcıt, E., & Öztürk, Y. (2023). Is It the Law of States or the Law Of Men? Feminist Criticism of the Establishment, Functioning and Practice of International Law. Journal of Academic Opinion, 3(1), 38–45. https://doi.org/10.5281/zenodo.8080025
License
Copyright (c) 2023 Journal of Academic Opinion
This work is licensed under a Creative Commons Attribution 4.0 International License.